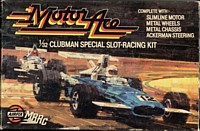 This is probably as good as MRRC/Airfix slot boxes get.
(Kit from Joel Thura)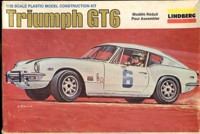 An unusual 1/24th kit, with nice artwork and a nice car, expensive though.
(Kit from Joel Thura)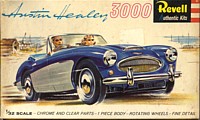 A very nice box and kit, released by Revell UK in the 60's or early 70's. These are quite hard to find. The recent Ninco release sort of makes this one redundant.
(Kit from Joel Thura)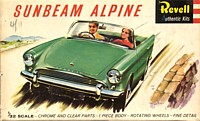 This was released as a Slot car as well, but with a single piece body. The car is a different version from the Scalextric release (and sometimes cheaper).
(Kit from Joel Thura)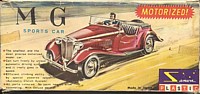 Another very rare Japanese 1/32nd kit. The artwork is nice, the kit very poor. Made by Sanwa, it can be electric powered, but unusually, the motor is not included in the kit.
(Kit from Joel Thura)
PS: the whole range of those has recently appeared on Ebay, they acheived rather high prices, especially when you consider that they are very inaccurate.

This the back of the kit shown above, it shows amongst others a 1/32nd Lotus XI. Now if anybody has got one for sale, several of us would be very interested.
just email me jthura@ricoh-uk.com