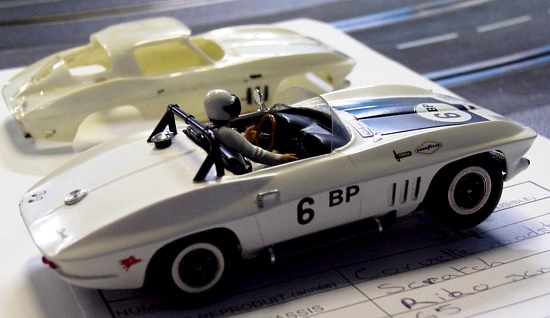 1/32nd. My own entry, the shell in the background is what it started life as: a damaged Revell Corvette.
It is based on a club racer used in the US around 1965.
The roof was first cut off, and the rear deck build from plasticard and milliput.
The interior came from an AMT kit, with bits from a diecast car. It includes pedals, gear shift, hand brake, and full dashboard including a radio. The driver was build from 4 different figures, legs from Fly, body from Proslot, arms from a Japanese soldier, head from??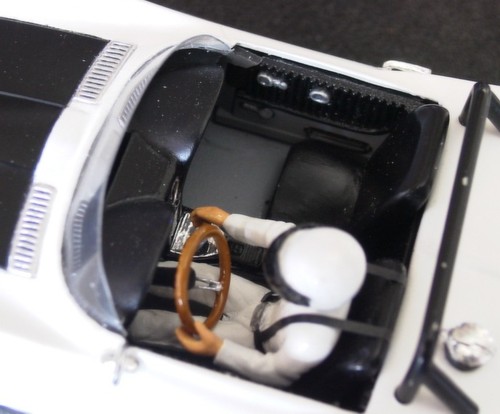 Additional detail includes, door handles, all vents opened up, recast Stingray script, clear lights all round, modified headlight covers, totally scratchbuild exhaust, etc. The wheels are by Cox, not sure which type though.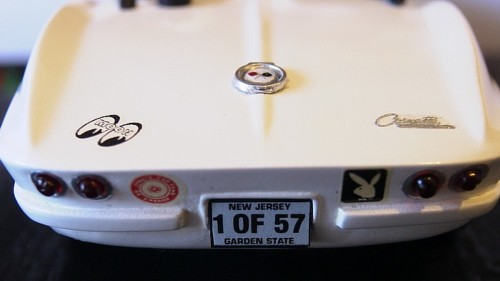 In order to fit all this in, I had to make a front engined chassis using brass and PCB material. Because of the very short nose of the car, I aslo had to shorten a Riko motor, so that the guide did not stick out the front. As a result of shortening, the motor ran very hot, it took me ages to get it to run cooler, I was so worried that I actually modified the guide mount, so that I could use a standard motor as well, just in case. I used the long motor in practice, switching to the short motor for concours and the race. Compared to most other people there, I am very new to slot racing, and shortening motors is not what I do best, this was my first scratchbuild chassis and modified motor.

My goal for 2006 is to finish in the top 15 in the racing, my position in Concours will be up to the judges, in 2005 I was marked down by some people because they thought PCB material was too modern. I am taking no chances this year, I will use an Atlas motor and chassis.