Words and pictures by John Dilworth.
Made from a Classic fibreglass shell several -six, seven?- years ago now,and is a little 'race-distressed' these days. It's still one of my favourite cars to race round my home track because;

1; It's one of my all-time favourite cars, driven by my all-time favourite pilot.Even though it was one of the least successful cars Colin Chapman ever made, I think it looks fantastic on the track and really summons up an era for me.Anything in green with a yellow stripe does it for me.
2. I havn't seen many other models of this car
3. It's fast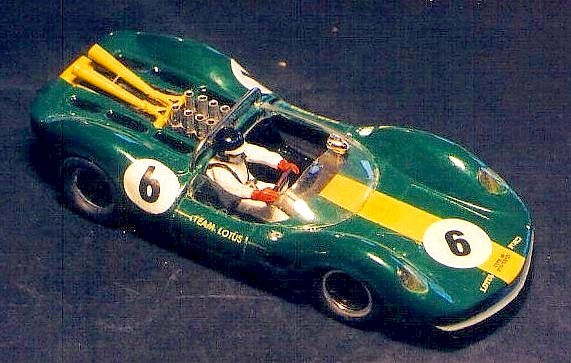 I got the shell from Betta and drilled and reamed out everything I could, and found there was just enough room to squeeze in a standard Fly motor and sidewinder gear. The chassis is a very simple brass rod frame, the motor/rear axle/guide being one unit, which is mounted to the body behind the back axle with a hinge, so that it all falls away iso-fulcrum style. There's a Fly round magnet just ahead of the motor My track is very bumpy and needs some sort of drop arm arrangement to stay in the slot.