With some conversions the standard figures arms are not positioned in the correctly to hold the steering wheel or you need to adjust the stance to fit the model's interior.There are two ways of doing this:
1/ You can either cut the arms off the figure at the shoulder and at the elbow trim to the right length and angle and glue back in place so that the driver is holding the steering wheel. Once hardened fill any gaps in between the shoulder and elbow of the figure.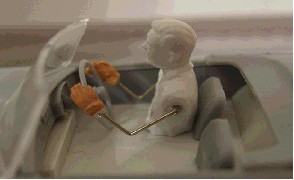 2/ Or, cut the arms off at the shoulder, cut the hands off at the wrist (as per picture on the right) make thin wire armatures, insert into holes drilled at both ends. The figure can then be posed in it's seat holding the steering wheel at the correct angle, before gluing. Once the adhesive has cured build up the arms with putty, shape and then repaint the figure.