Track One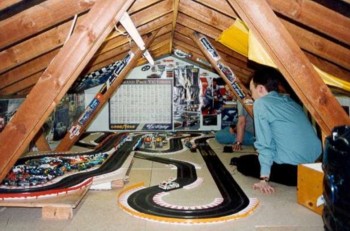 So upon moving in, and after some of the more important jobs were completed, I started to floor the loft. Being a fairly new house, the condition was clean, which helped. The "walls" were also boarded, and posters, flags, stickers, lights, power and a fan added. The cleanliness of the loft means that there is never any problems with the cars or track from fluff, nor is there any issues with oil on the carpet.
Track One was a back and forth track in a figure of eight style. This meant I had to have a bridge / flyover, and decided to have a small raised platform, so that the track traveled up onto the platform, around, off the platform and back over the track. Problems set in immediately. As my track had been regularly put down and pulled up, a number of the joins were well worn. Also keeping the track in the garage had not done it any favours either from the damp.
The track never really worked correctly, despite cleaning, the use of one power supply per lane, booster cables, and wiring the track sections to each other. The main area of concern was the lead up onto the platform, where the change of angle always caused power problems.