This car is the last of the Testa Rossa family (the real ones that is), a 330 TRI ( I is for independent suspension), the last front engined car to win Le Mans, in 1962 (until Panoz gets it right). By then it had a 4-litre engine and looked very different from the 1958 Testa Rossa (as done by Ninco).
Starting from the Strombecker bodyshell, the work done went as follows:
The front end.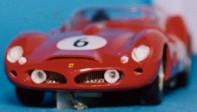 Plasticard was fitted to the sides of the car to give it normal wings, card and Milliput was used to reshape the nose and create the "nostrils", the air intake on top of the nose was made using shaped card. The whole nose job was obviously the most difficult part of the conversion. It was done first in case it went badly wrong and the car ended up in the reject box. Once the nose was of roughly the correct shape, the rest of the work could be carried out.
The Tail.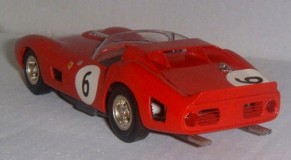 The height of the rear wings was increased using Milliput, a piece of card was glued across the back to form the flat rear deck, another piece of card was glued at right angle to form the back of the car, the spoiler was added. The tail of the car is recessed, to achieve this neatly, a plastic rod was shaped and glued around the edge of the rear panel.
(picture by Trevor May)
The Strombecker cockpit was entirely cut out and replaced with a flat piece of card, the dashboard was build up from card. The wing was shaped from plastic card and glued into place. The openings were cut into the body, two on each side and two in the back of the car, not forgetting the one in the bonnet for the carburettors.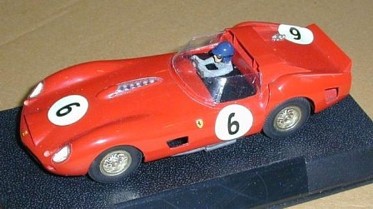 It was then time to finish the shape of the nose, this is particularly difficult as it must be symmetrical, having got it nearly right, but not quite, my bottle went and I put the project down for about six months (it was near painting stage and I hate painting).Having sat there for 6 month the unfinished car was spotted by Chris and David during a visit, this prompted them to indulge in some persistent arm twisting. In the end, I gave in and decided to restart the project.
(picture by M Gussin)
A couple of inspired evenings later and the nose shape was just right, the top of the front wings was modified to match the real car and it was ready to be painted (panic!).